Over time, we've moved to a life of convenience with more and more meals eaten out or ordered in…and now since Covid-19, food service deliveries have really ramped up. Generally, eating a home-cooked meal is the healthiest option, however with a few intentional strategies, you can still stick to your health goals even when the meal isn't prepared at home.
First, remember "portion distortion"…while calories are not created equal, most restaurants provide meals that, calorie-wise, could feed a small army. Fortunately, most restaurants offer calorie counts for their menu items (and if not, a quick search on the web can get your pretty darn close). Try to aim for 600-700 calories or less. And, keep an eye on "add-ons". But please, don't let the restaurant dictate what a true "serving" is or the proper balance of protein and veggies. Instead of eating a "multi-serving" meal, try splitting your meal with a dinner partner – or immediately put half of it in a to-go container and save the other half for the next day.
Choose your restaurant wisely. Spend a few minutes looking over restaurants that have healthier options like assorted vegetables (not fried), lower sodium, avoidance of seed oils, and other healthy protein options like fish, nuts, legumes. For your protein, look for food items that are broiled, baked or grilled vs. fried.
Upgrade! If you are eating rice, opt for brown rice if you can. Reduce the carbs as needed. One of my favorite salads comes with brown rice and I ask the restaurant to cut the amount of rice by 2/3 and increase the kale by the same. Can you ask for more veggies? Is there a gluten free bread option?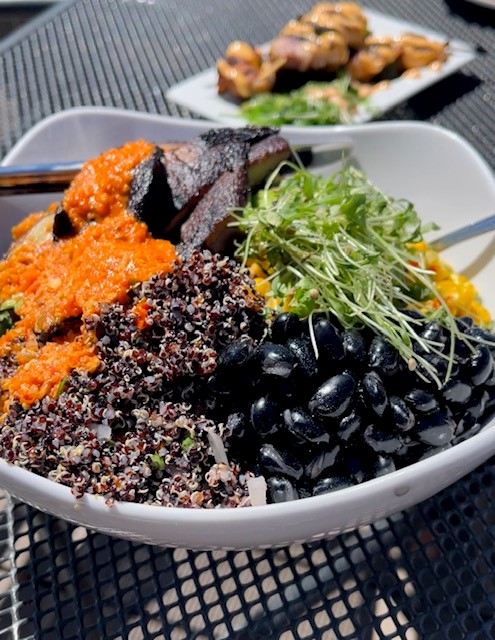 Watch liquid sugar. In other words, sip smarter. Soft drinks/juices are not your friend (even if "sugar free") – but that's a topic for another day. Water (carbonated or not) or unsweetened tea are better options. There are plenty of ways to add a little flavor — my favorite is half a squeezed lemon, but any kind of fresh or frozen fruit are nice.
While we are on the subject of liquid sugar, we can throw mixed or frozen drinks (alcohol) into this section, too. Our bodies just don't need excess energy (calories), so what will they do when we bring in more than we need? Store it! And trust me when I tell you, "You cannot out-train a bad diet"! It's just better to make balanced choices.
Sides…are they really necessary? Can you swap them out with vegetables – or do you even really need them depending on your entree? Much of the time, sides are just more nutrition deficient calories.
Maybe cook a "little". This is something we often incorporate at home. I've found with meal deliveries, vegetables may not fare well or are limited –or maybe the side has cheese or sauce we didn't want (like one using canola oil). So, we keep a couple zucchinis, spinach, carrots or broccoli around that we can easily sauté or roast seasoned just to our liking. Or, maybe we'll mash a bit of avocado with Landry's seasoning. (If you haven't experienced this delight, TRY IT!!)
My friends, I am right there with you on needing a break from cooking after a long work day, but eating out doesn't have to derail your health goals. Just become a little more intentional around where you go and the selections you make. And, ENJOY it!