I've always been a fan of cliff notes and getting down to the net/net, so here are the cliff notes for today's blog:
Learn It. Lose it. Love it. Live it. And, laugh.
That's a pretty simple formula, right?
Here's the deal: we're all striving towards life goals, essentially trying to live "larger" in some form or fashion. While the formula above isn't rocket science, we may need a gentle reminder about how to tap into our best self:
Learn it. One of the best ways to achieve goals is to observe the patterns of success demonstrated by men and women who have achieved greatness. There are reasons these folks rocked it. Keep reading, learning and sharpening the saw. Take notes and do what they do.
Lose it. Create some awesome habits. We've all heard that it takes 21 days to create a habit, right? Well, it turns out this is a bit anecdotal. The reality is that it may take longer– or less. What matters is that we keep trying and focus on developing our good habits. They WILL stick, eventually. At the same time, we should drop any habits that don't serve our purpose. Now. Simply lose them.
Love it. Life, that is. Life provides both sunshine and rain. What's important is how we embrace what comes our way—opportunities, challenges, or people. Why not consider everything a stepping stone to our future and just say YES with enthusiasm and excitement?!
Live it, like Nike. Just do it, take action. It doesn't matter if we make a mistake, get off track, or (gasp) fail. Our plans don't have to be perfect in order to get started. What matters is that we keep going with dogged determination and persistence. If Plan A doesn't work, switch to Plan B or C, because as long as we keep moving, we WILL succeed.
Last of all, laugh. We take ourselves far too seriously. Tony Robbins suggests considering the big picture and how we will look back on a situation 10 years from now. The odds are it will be with considerably less worry and strife. So why wait? Find humor & laugh more—especially at ourselves. Don't take life so seriously. It's certainly more enjoyable on the lighter side.
There they are, the "5 L" cliff notes to success: Learn it, lose it, love it, live it, and laugh.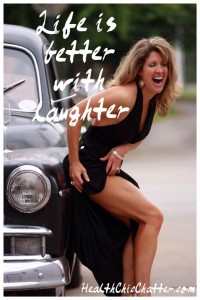 Remember, life isn't about avoiding the storms, but rather how to dance in the rain.
Happy dancing!
~Lisa
(Written for Compete Every Day)