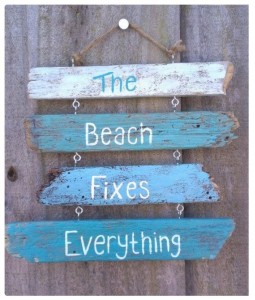 A "Blue Mind" is defined as a mildly meditative state characterized by calm, peace, unity, and a sense of general happiness and satisfaction with life in the moment….
We are so bombarded with sensory stimuli that our poor brains need a break…but unfortunately, we often don't allow enough time from our hectic lives to recharge adequately.  This is where the great healing power of being around water comes in. It's not that we shut down when we are near water, but we do get a break where less information comes in. We relax, and a sense of calm, unity, happiness and peace eases in. There's a reason why rivers have often been considered sacred places and water often symbolizes a new beginning or salvation. We even have a universal attraction to the color blue (my personal favorite is the a blend between blue and green, the color of the ocean around the Florida Keys).
"We are beginning to learn that our brains are hardwired to react positively to water and that being near it can calm and connect us, increase innovation and insight, and even heal what's broken," Nichols writes in Blue Mind: The Surprising Science That Shows How Being Near, In, On, or Under Water Can Make You Happier, Healthier, More Connected, and Better at What You Do, published in last July. "We have a 'blue mind' — and it's perfectly tailored to make us happy in all sorts of ways that go way beyond relaxing in the surf, listening to the murmur of a stream, or floating quietly in a pool." I know that I can easily find perspective when I stand on the beach with the wind in my hair and watch the waves roll in. Regardless of what is going on in my life; while on the beach, I am at peace.
If you are one of the lucky ones who lives by water, working out next to water multiples the benefits exponentially. But don't worry if you aren't close to water. You can still listen to sounds of waves, close your eyes, and experience the benefits a "blue mind" provides. (Even the shower or a gurgling fountain works!)
"The ocean stirs the heart, inspires the imagination and brings eternal joy to the soul". ~ Wyland
I'm ready to get "my toes in the water and my butt in the sand, not a worry in the world, and a cold beer (glass of wine) in my hand"…or is it the other way around?!
Won't you join me?
Live fit, be happy. And smile.
 ~Lisa