Good morning friends, I have some good news…and some bad. Shall we hit the bad news first?  OK, here goes: There is no, definitive one-size-fits-all diet, workout, or magic supplement. That's not too tragic, though, is it? Now for the good news: there are general principles, habits, foods, workouts, and supplements that when performed/eaten/done consistently will yield weight loss, improved health and energy.  In a nutshell, the list condensed below is where "it" is at. ("It" being the recipe for weight loss and improved health success.)
MOVE your body. As much as you can, as often as you can, in the manner that suits you most. We talked about sitting being the new "smoking" hazard, so get moving– as often and frequently as possible.
Don't drink your calories. A fifth of what we consume (calorie wise) comes from beverages…and most are loaded with sugar and empty calories. (And yes, I am also talking about alcoholic beverages.)  Cut back! Unless of course, your "beverage" is whey protein shake—which is great post workout or as a meal replacement, in a pinch.
Get more sleep. Sounds easy, right? The reality is we trick ourselves into thinking we don't need more sleep because we can survive on less. We don't THRIVE on less, however, and performance and mental tests tells us otherwise. Sleep aids recovery, balances hormones, helps with weight loss, improves mood and more.
Watch "portion distortion". Counting calories may not be your thing, but phone apps sure make it easy. What we have learned is that most people underestimate caloric intake and overestimate energy expenditure. Plus, most restaurants provide inflated serving sizes. Split a meal with a friend or take half home. Don't be fooled by correlating empty, excessive calories as "value".
Cheat foods are ok. Alright, even saying "cheat" or labeling foods as "good" or "bad" is not really a good thing to do. Consider colorful, real foods vs. processed, but instead of striving for perfection, strive for "good enough". Or, try what I refer to as the "Catholic school girl diet": eat like an angel 6 days a week and on the 7th day, make the devil blush! In other words, it's ok to indulge a little. Just don't let it derail you and keep it as an exception and not the rule. Remember, consistency is king.
Go heavy. Lifting weights, that is. Sorry ladies, you will NOT build huge muscles. And regardless of your age, everyone needs to lift heavy and combat muscle decline. Decreasing muscle mass equates to body fat increases AND a slower metabolism. Lift heavy and fire up your metabolically active tissue. NOW.
Variety is the spice of life. Mix up your workouts and you'll get more out of them.
Find like-minded peeps. Community is important and like-minded people provide motivation, mentoring and help keep you accountable. I feel so fortunate for the fitness friends I've trained & learned from over the years.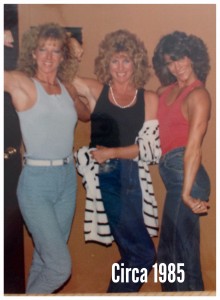 Adkins really did have it right. I'm not advocating a specific diet. Honestly, the best plan out there was laid out in the Old Testament. Real food, plain and simple. BUT, if you integrate a practice of carb swapping knocking out pastas and breads, it's one of the easier ways to help you lose weight as many folks are sensitive to carbs. My fiancé and I are all over cauliflower options in lieu of pasta, potatoes, or bread. (Check out the recipe section of my blog for ideas.)
And about that Adkins….eat more fat. Yes, she said that. As much as 35% of your daily calories can be a mix of nuts, avocados, or healthy oils. It's the TRANS fats you want to avoid like the plague.
You really can work out anywhere. Your body can provide great workouts. A jump rope is $10. Squat, climb stairs, step up, jump rope, do jumping jacks or push ups (from knees or feet), etc. A gym is not required.
Multi-function exercises work your body better and can aid fat loss. Consider a dumbbell squat to should press. Or, a deadlift to back row.
Regarding food, adding solid protein at each meal or snack will help keep you full and keep your metabolism going.
Hydrate. Dehydration can make you think you are hungry, impede performance, and affect your mood (plus a whole lot of other things). Water or tea help control your appetite and tea has so many wonderful benefits (see earlier blog). Drink water, drink tea, try some of the drinks I shared in my past blog, but HYDRATE, often.
Last of all, be kind to yourself. YOU are amazing and wonderful. And far from perfect. This is a journey we make together. Laugh at your mistakes and keep trying. YOU are worth it.
 Besides, "what have you got to GAIN"?
(My earliest health & fitness mentor, Sharon Turrentine, used to ask this Q and it's a great one. I met her when I was 19 and she was 39 and training for a body building contest. She looked amazing then AND still looks amazing today. A true testament to a healthy living lifestyle. Many thanks, my friend!  You have influenced my life in such a positive way.)
Until next time time, live fit, choose healthy, laugh often.
Lisa