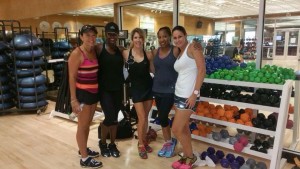 By now, you've seen and heard plenty about the impact of your social environment and how you can catch obesity and other unhealthy habits from your friends and fam.  The half full cup view on this is true, too. You can "catch" good health and fitness, as well.  Turns out you can reap benefits whether your social network is in close physical proximity or virtual. Cool, huh? 
Do you remember the professors several years back who spread the word about the quality of your social sphere on health?  If your network has bad habits (eating, drinking, little sleep, excessive TV/gaming, overweight or smoking)…chances are you have those same habits.
If you have a second, check the studies out. Compelling stuff.  
So… unhealthy behavior is quite communicable. According to the studies, your chance of becoming obese increases:
57 % when one of your friends is obese

40 % chance if it's one of your siblings, and

37 % if it's your spouse.  
But hey, before you start looking around…remember the flip side. Because health and behavior are linked so closely, that means that any health state connected to habitual behaviors is communicable. (Big sigh, right?!)  Even more good news: social connections can also improve your health. Think about how effective support groups are, right?  People who hang around others who think positively also tend to think positively. You can lose weight, gain energy, and get fit together just as easily.
Those closest to us have the most impact, but even a distant contact can have a nice impact. 
Now, before you go ditching those less than perfect around you, remember having friends (al Beit even the unhealthy ones) will still add happiness and longevity to your life.  In that case, why don't YOU have a positive impact on them?  Your fitness and health decisions will have the ripple effect through your whole social circle, eventually coming right back to you in the form of increased social support.  I have to smile when my college son teases me and buys gluten free products because information I've shared over the years sunk in. (Yay) When he was taking nutrition, he said it was a breeze because he'd picked up so much information through osmosis. I <heart> that.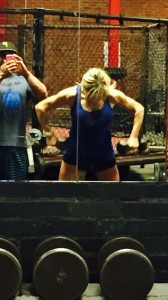 Next time you're digging deep for a reason to go to the gym, or  or pack a lunch instead of hitting the drive-thru, this may be a perspective to consider. Even if you're not hugely motivated to make a healthy choice for yourself, you may be a little more willing to do it for the sake of the people you care about — or even for those you don't know. According to the studies, your actions are influencing 1000 people.
 That's huge. 
Take charge of your health and improve the world one healthy habit at a time.
To my fit friends who inspire or motivate me to eat clean, run, lift, train harder, or get to bed sooner: THANK you. You guys are the BOMB!
Choose fit. Laugh often, be contagious.