There are two questions I ask about when people inquire about getting in shape or losing weight.
"Are you drinking enough water and staying hydrated?"
"Are you getting enough quality sleep?"
Sleep is vital in so many ways (see blog on sleep), but as we get older, we tend to assume we can get by on less– while at the same time falling asleep and staying asleep become challenges.  Those blue screens from our TVs, iPads, electronic readers and phones are wreaking havoc with falling asleep for young and old. To help you look good, feel good, and maintain good weight and hormone levels, try these steps to increase the likelihood of getting a good night's sleep, EVERY night.
1. Try to keep a consistent sleep routine. This means going to bed at the same time each night and wake up at the same time each morning. Keeping the "status quo" routine will train you to fall asleep more easily and wake up more refreshed.
2. No TV or electronic media use in bed! Use the bed only for sleep and sex.  Try to keep the bed for sleep 'n sex! Also, improve your sleep surroundings so electronics are OFF and the environment is quiet, dark and free of clutter.
3. Watch the timing on caffeine intake, especially after 2:00 PM. Even a single cup of coffee or tea in the morning means a sleepless night for some folks.
4. MOVE!  Getting physical especially with walking, running, or swimming provides three important sleep benefits like falling asleep faster, achieving a higher % of restorative deep sleep, and staying asleep during the night. Watch the time you work out, however, because exercising too late causes physiological changes that might interfere with your sleep.
5. Avoid excessive napping. Plain and simple, long naps can disrupt your natural sleep cycle. A short nap can be wonderful, but sleeping an hour or longer during the day might keep you up at night.
6. If you smoke or chew, now is a good time to STOP. Tobacco & nicotine speed up your heart rate, raise blood pressure, and stimulate fast brainwave activity that keeps you awake.
Along those lines, use alcohol cautiously. I agree a glass of pinot can be relaxing…but, the effects disappear after a few hours and might cause frequent awakenings.
7. Give in. If you are tossing still after 20 minutes in bed, get out of bed and read awhile to help you relax.
8. Check the temp. Keep the bedroom at a constant, comfortable temperature, and avoid getting over heated.
Want to optimize your life? Improve the quality and quantity of your sleep at night. Your sleep schedule, bedtime habits, and day-to-day lifestyle choices can make an enormous difference to your nightly rest. And THAT will help you be more productive, mentally sharp, emotionally balanced, and full of energy all day long.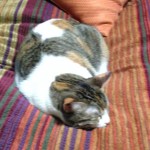 Until next time, choose fit. Be happy.  
What have you got to gain?