Henry David Thoreau said that a loooong time ago and he was spot on. Today let's talk about hydration and its importance to… well, to just about everything.
When do you drink water? Most of us drink when we are thirsty. Don't! It takes a while for your body to fully hydrate. When you wait until thirsty, there is a high probability that you're already dehydrated to some extent. That means whatever our body is doing or needs to do, it will not function effectively or optimally without proper hydration. A great way to get a jump start every day is to start your day with 2 cups of water. So, besides making everything work better, here are a few ways proper hydration helps you be more awesome:
Drinking water helps reduce high blood pressure. Your blood is approximately 92% water.
Drinking water helps reduce symptoms of allergies and/or asthma. See, when you are dehydrated, your body creates more histamines and if you have too many histamines circulating, you will feel congested and have other allergic reactions.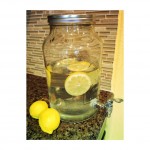 Drinking water aids digestive disorders by eliminating or at least reducing ulcers, bloating, gas, gastritis, reflex and IBS. You also have less constipation since water is needed to move matter more quickly through the intestinal track.
Drinking water helps flush toxins. Back to the bullet above, a well hydrated bod purges toxins and metabolic wastes better. 'Nuf said.
Drinking water helps speed up joint and cartilage repair. The padding in cartilage is mostly water and joint repair after workouts or injuries is quicker with adequate hydration.
Drinking water also flushes bacteria out of the bladder. Proper hydration is especially important to folks prone to kidney stones or bladder infections.
Drinking water gets your "glow" on. Seriously, with good hydration the skin can rid itself of toxins which cause irritation, inflammation, acne, dermatitis, psoriasis, and aging.
Drinking water helps you stop gaining weight. The more you drink, the more satiated you feel and…yes, that helps you feel less hungry which results in eating less . Keeping hydrated prevents cells from sending hungry signals to the brain. Besides most "hunger" is actually shared studies where just 2 glasses of water each morning resulted in an 11 lb. weight loss in a year! That's something to drink up to.
Last, proper hydration is a mood and energy booster.
Until next time, live fit, laugh often, and DRINK UP!
What have you got to gain?