There is so much you can do at home to get a great workout in with just a couple items if you'd like to expand options beyond body weight. Below are a few AMAZON sales I found this week on items that I have as part of my home gym:
These resistance bands can be used as booty bands with other uses for arms, chest, back, etc. Super versatile, varied strengths, and easy on the purse.  Plus…they are on sale!
I enjoy gliders for legs, core & more. These come in 4 colors and are half off currently (less than $10)!

If you'd like some thicker booty bands, some folks think these are more comfy, then these "Booty Bands" might be your ticket!
Resistance straps are super versatile. I take these with me when I travel. I'll be sure to post some workouts you can do with these! These are 35% off, currently.
Balance Balls enhance workout and definitely provide a challenge to basic moves. I found this one on sale for you. Flat on one side and rounded – I use both sides! While this is the most expensive item on the page, it's 30% off right now.
Pilates balls are great for legs & core and can help protect the lower back with core work as you build strength. This one is 1/3 off currently!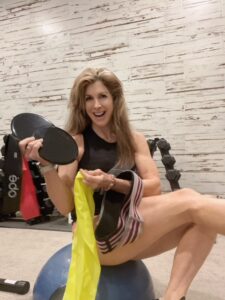 Friends, please know that I am an Amazon Affiliate so I make a small commission off of these products, if you choose to buy. this is how I am able to create and offer free workouts each week.