Ingredients:  
1 cup Greek Yogurt (I use a coconut version)
3 tbsp PB2
¾ cup chocolate chips
1 tbsp coconut oil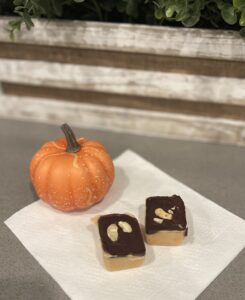 Directions:
Mix yogurt and PB2 together and pour into silicone mold. Put into the freezer for 10-15 minutes to harden. Melt the chocolate chips and coconut butter, stirring well. Pour over the yogurt mix and pop back into the freezer. While the chocolate is melting, you could sprinkle course sea salt or chopped nuts, if desired. Once frozen, pop out as needed for a delicious, creamy treat! ENJOY!!