Ingredients:  
16 oz bag of pumpkin seeds
1 tbsp ground cinnamon
¼ tsp nutmeg
¼ tsp ground ginger
1/8 tsp ground cloves
3 tbsp coconut nectar (honey or Sukrin Gold Sugar Free Fiber Syrup)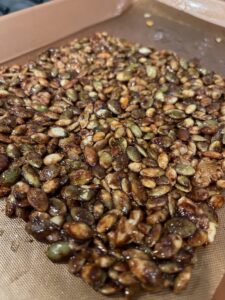 Directions:
Preheat oven to 350 and line a baking sheet with non-stick paper or foil.
Mix the cinnamon, nutmeg, ginger, and cloves in a small bowl.
In a larger bowl, coat the pumpkin seeds with coconut nectar. Make sure the seeds are well coated. Then sprinkle the spices over the coated seeds, mixing well.
Spread the coated pumpkin seeds onto the prepared baking sheet and bake for 15 minutes.  Allow to cool, then peel pumpkin seeds from the paper and break them into brittle-like pieces.
ENJOY!!  (Or, store in an airtight container for up to 7 days.)