This oh-so-simple breakfast can also work as a snack. An ounce (2 tablespoons) of Chia seeds is 139 calories with 4 grams of protein, 9 grams of fat, 12 carbs and 11 (wow!) grams of fiber!  The omega-3's are great for your heart, the fiber is great for your bowel health, plus you get B vitamins and minerals for your bones.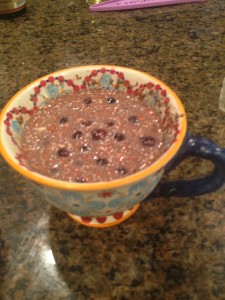 Ingredients:
3-4 tablespoons of chia seeds
4 oz of your choice (I use no sugar added chocolate almond milk, but you can use milk, coconut milk, etc.)
1/2 cup blueberries (or sliced bananas, raspberries, etc.)
1-2 tablespoons of your choice  of chopped nuts (I like slivered almonds, unsalted sunflower seeds, or walnuts)
1 packet Stevia or Xylitol
1/2 tsp unsweetened cocoa powder (optional)
sprinkle of cinnamon
Want more protein? Add a scoop of whey protein.
Caution: Chia seeds can expand 10-12X their size and become a gel like substance. Be sure to allow them to expand fuller before eating and do not eat them dry because they could expand somewhere in your digestive system causing an obstruction.