Ingredients:
1.5 cups mango, cut into "dice"
1/2 cup strawberries (preferably organic)
1/2 cup avocados, cut into dice
1/4 cup red onion, minced (optional)
1 tsp garlic, minced
1 red jalapeno, seeded, deveined and minced (optional)
2 tbsp cilantro, slivered
2 limes, juiced (about 1/4 cup)
1 tbsp honey (I've also substituted xylitol)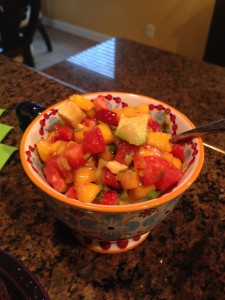 Directions:
1. Mix all the ingredients up to the cilantro in a medium sized bowl.
2. Heat the lime juice and honey in a microwave safe bowl for 15 seconds, then whisk to combine. After it has cooled, add 2 tbsp to salsa and gently fold to combine.
3. Add more honey lime juice to taste and garnish with cilantro.
4. Try a variety of chips like Stacy's cinnamon pita chips, corn tortilla chips, or a gluten free chip of your choice.
ENJOY!