This is on of my favorites –for breakfast or as a dessert! Enjoy & experiment with different toppings like Tru-Whip (non-hydrogenated natural cool whip alternative), cinnamon, coconut flakes, ground almonds or flax seeds, or a few mini chocolate chips!
Ingredients:
1 loaf hearty, whole wheat bread
1 cup blueberries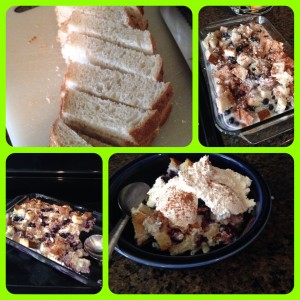 1/2 cup sliced almonds
1/2 cup cottage cheese
2 cups egg substitute
2 1/2 cups skim milk
2 tablespoons granulated sugar
1 teaspoon vanilla extract
1/4 teaspoon almond extract
Directions:
1. Lightly coat a 13×9-inch baking dish with non-stick spray.
2. Tear the bread into 1-inch cubes.
3. Mix the bread cubes, blueberries, and almond slices. Spread the mixture evenly in the baking dish.
4. Blend the cottage cheese in a blender, food processor, or using a hand mixer. When there is a smooth consistency, blend in the eggs and milk. Mix in the sugar and the extracts.
5. Pour the liquid mixture over the top of the bread. For the best results, cover the casserole and let it sit for at least an hour (or up to overnight) in refrigerator.
6. Pre-heat the oven to 375 degrees.
7. Cover the French toast with aluminum foil and bake for 20 minutes. Remove the foil and bake for another 20 minutes until the casserole is puffy and golden brown. Serve and enjoy while still warm.